Take your morning routine to the next level! Let's face it, more and more of our everyday items are becoming more digitalized. These gadgets make the room a smart and up to date space. Here are a couple cool gadgets for your bathroom!
U by Moen Smart Shower
Control Your Digital Shower Your Way – U by Moen has forever transformed showering to create a personalized showering experience. Now with three ways to control your smart shower: voice, phone, and controller.
Shower Length – Time your shower perfectly to find a little extra room in your morning schedule.
Start and Pause – Start your shower from the app and pause it to avoid wasting water (and time).
Temperature Control – Use your voice or the smart phone app to choose your perfect shower temperature before even stepping in.
Device Notifications – The app tells you when your shower is ready according to your custom-made preferences.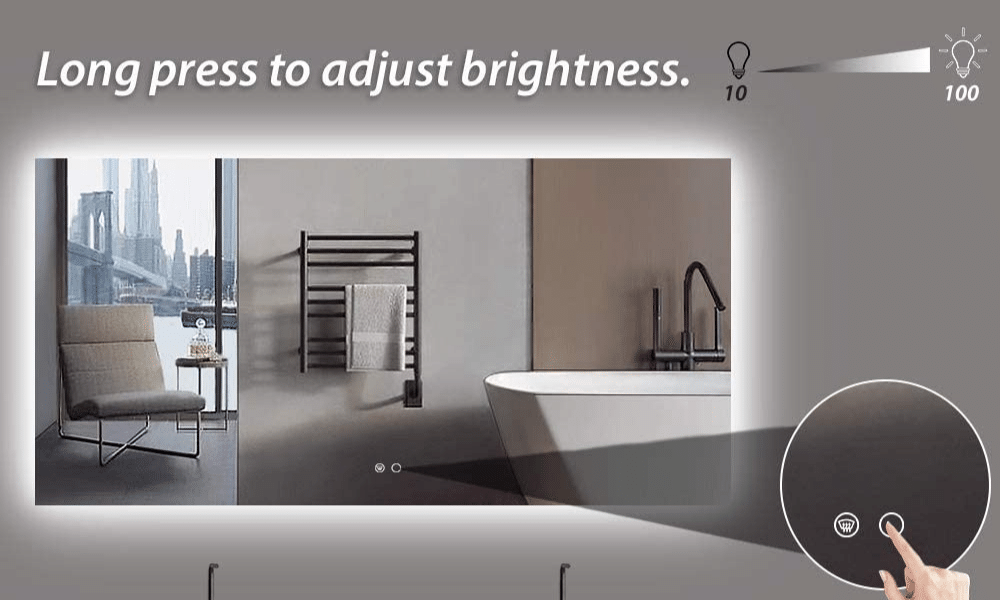 Keonjinn Smart Mirror
Keonjinn has been committed to helping simplify busy lifestyles by providing consumers with quality bath and kitchen products. We strive to inspire and motivate people with simplistic and practical design that can enhance the quality of life.
Dimmable Led Mirror – This LED backlit mirror light is dimmable, controlled with power switch. Simply touch the power switch button for 3 seconds to change light intensity from normal to brightest.
Anti-fog Function – The power switch and anti-fog switch are separate control, anti-fog according to need to open and close, safe and energy-saving. The built-in anti-fog function means no need to constantly treat your mirrors with fog free spray, or rinse them multiple times per shower.
Unique Design – LED lifetime: 50,000 hours (Using the mirror 3 hours a day means it will last 45 Years). With silvered reflection layer, copper free & environmentally friendly. IP54 waterproof rating ensures safe lighting in wet bathroom environments.
Ponydash Touchless Hand Sanitizer Dispenser
The Intelligent Of The Touchless Hand Sanitizer Soap Dispenser – Touch-free hand sanitizer dispenser built in precision infra-red sensor, can detect your hand instantly, completely hand sanitizer dispenser. Wash hands more often, you need our touch free hand sanitizer dispenser that it is very convenience and can reduce the spread of bacteria and viruses around us. Kids will love to wash their hands. – no more worrying about the little ones getting sick!
Adjustable Soap Dispenser Amount – 4 levels to adjust the touchless soap dispenser, just customize your usage mode! On/Off switch to adjust the touchless hand soap dispenser volume, you can choose how much of the soap liquid comes out. It decreases the cost of soap without any waste. Touchless Hand Sanitizer/Alcohol/Gel Soap Dispenser, at this time, you will be happy to buy it to keep your lovers health and safe.
110 CFM LED Ceiling Mounted Bathroom Exhaust Fan with Alexa Voice Assistant and Bluetooth Speakers
Alexa voice enabled assistant built-in allows you to speak your questions or commands
Bluetooth wireless speakers inside pair with your smart device
Stream audio wirelessly using bluetooth or Wifi via Amazon music, Spotify Connect, and more
Integrated long life LED light is bright (800 lumens) and dimmable
Color of light can be adjusted to 2200K warm white, 3000K soft white, 4000K cool white, or 5000K daylight
110-CFM provides powerful airflow for a healthier home
Prodigy Smart Toilet Bidet System with Auto open, Auto Flush
Introducing the Prodigy Next Generation Toilet Series from Bio Bidet. Carefully crafted to raise the standard for every trip to the bathroom.
Compliment your smart home with the latest bathroom technology and see why it has never been easier to Clean in Comfort.
Features:
auto opening and auto flushing when standing up
minimize unneeded contact,
Wider sitting area,
Dual flush,
Tankless direct connection,
Innovative DIY installation,
Stainless steel nozzle,
Controlled warm water (duration varies depending on water pressure setting)
Wireless remote control,
Wide clean mode,
Smart power saving,
Bubble infusion wash
Withings Body+ Body Composition Wi-Fi Smart Scale with Smartphone App in Black
Full Body Composition – Monitors weight (kg, lb, st), body fat & water %, plus muscle & bone mass
Highly compatible – this smart scale syncs with Apple Watch plus more than 100 top health and fitness apps including Apple Health, Fitbit and Google Fit
Automatic synchronization – Data from every weigh-in appears automatically via Wi-Fi in the free Health Mate app (iOS8+ and Android 5+)
Nutrition tracking – Set a weight goal and manage your daily calorie budget
Accurate by design – Wi-Fi ensures that your measurement is accurate anywhere in the world, and Position Control Technology guides you into the correct stance so that each weigh-in delivers highly precise measurements accurate to 0.2 lbs / 0.1kg
Daily weather forecast – Step on your scale to enjoy a localized weather report to help plan your day
Multi-user friendly – Up to 8 users can access their personal weight histories because the scale automatically recognizes who's who
For every stage of life – Keep track of the whole family's growth with Pregnancy Tracker (healthy weight gain range and obstetrician-reviewed advice) and Baby Mode, to track the youngest members.