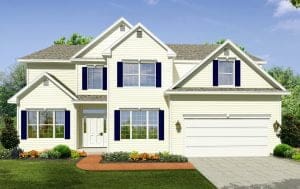 The flow of the Expanded Sequoia is simply remarkable. The front main entrance allows guests to take in the aesthetic beauty of the main floor upon first glance. They are initially greeted by the spacious dining room and formal living room on either side, affording a luxurious presentation of both eating and relaxation areas. Beyond those rooms they enter the open main living area which is complemented by the large windows allowing the flow of warm natural light. All traces of utility areas have been carefully placed out of the way in order to provide a gorgeous presentation.
Switch over to the second main entrance from the garage and homeowners first enter a mudroom complete with built-in bench seat prior to the main area. This makes the perfect area to hang coats, clean off dirty shoes and even place groceries and other purchases in order to prevent clutter and messes from entering the main living area. Right to the front of the mudroom is a large walk-in pantry, so home owners will never have to deal with cluttering their counters in order to find space for their newly acquired items.
Head to the second floor and as you inspect the rooms, you'll notice they have been thoughtfully laid out in order to provide the maximum amount of privacy possible for each of the three additional bedrooms. Even the two rooms next to one another have been designed in such a way that the closets are placed on the shared wall.
One of the biggest conveniences in the Expanded Sequoia's layout is the laundry room located on the second story. No more hauling large heavy loads of laundry up and down a flight of stairs (two if your washer and dryer are located in the basement) and/or laundry spilling out into the main area of your home.
The master bedroom is not only spacious but beautiful as well, featuring a stunning tray ceiling that provides an extra open feeling to the area. The master is complimented by a large open en-suite featuring both a large walk-in shower with a bench as well as a soaking tub, dual sinks and walk-in closet.
With nearly 2700 sq ft of space, the Expanded Sequoia is absolutely perfect for families of all sizes, but most of all for those with multiple children. And with an entire unfinished basement to work with, the potential for expanding space and adding value to the home are all fantastic options for the future.
This model is currently available as a quick delivery home in Timber Creek Phase 2 (Shenendehowa school district) so call now for more information!