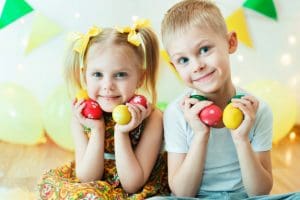 Hunting for Easter eggs is by far my children's favorite part of the day. They find them at home in the morning (the Easter Bunny leaves those) and then get to search for even more at other family member's homes that we visit.
Traditionally we have – like most families – filled our eggs with candy and the occasional change or dollar bill, here and there. Sometimes we even create "dud" eggs filled with guinea pig pellets or little pebbles as a joke the kids tend to get a kick out of.
But over the past few years we've looked for ways to get a bit more creative with our yearly hide-and-seek game and here are our favorite ideas!
1). Color Coding
Quite possibly the simplest concept imaginable, color coding the eggs prevents one child from taking the majority and also allows younger children to take their time searching for their particular eggs.
It's also a great way to teach younger children to recognize colors along with counting as they search for a specific number of eggs!
2). Puzzle Pieces
This is especially wonderful if you have children participating who suffer from food allergies.
You can either use a puzzle for each child and color code the eggs (that way the pieces from different puzzles don't get mixed up) or have one larger puzzle you can then put together as a family!
3). LEGOs
Similar to the puzzle pieces, consider filling eggs with pieces and the instructions from a smaller LEGO set. If you desire variety or holiday themed options check out the LEGO website for a much better variety than your local store.
4). Glow Sticks
We did this a few years ago and the kids had a BLAST looking for their last few eggs when it got dark. We hid a bunch of eggs in hard to see locations (like bushes) and once the sun set they lit right up for the kids to see!
It's a wonderful way to keep the anticipation and fun going all day long!
5). Scavenger Hunt
This one is a lot of fun for the older kids in the group!
Instead of giving them their Easter basket right away, make them engage in a scavenger hunt featuring eggs containing clues that lead from one egg to another until it finally leads them to their Easter basket!