Recycle Your Pumpkin Pulp
So, you've carved a perfect pumpkin, but now you're left with a bowl full of seeds tangled with innards, mush, pulp, or whatever you like to call it in your home. Time to throw it out, right?
Now most of us know that your can clean and roast the seeds for a delicious snack, but the pulp is largely thought of as inedible due its stringy, slimy nature. But in fact, the pulp is just as edible (and just as delicious!) as the flesh!
Bake or steam the pulp until soft then add to a food processor with a small amount of lemon juice (this prevents freezer burn) to make a delicious pumpkin puree you can use in a variety of recipes! You can even throw it in the crock-pot overnight and wake up to some homemade pumpkin butter that is perfect on your choice of toast.
Here's some of our favorite ways to put that pulpy pumpkin puree to work!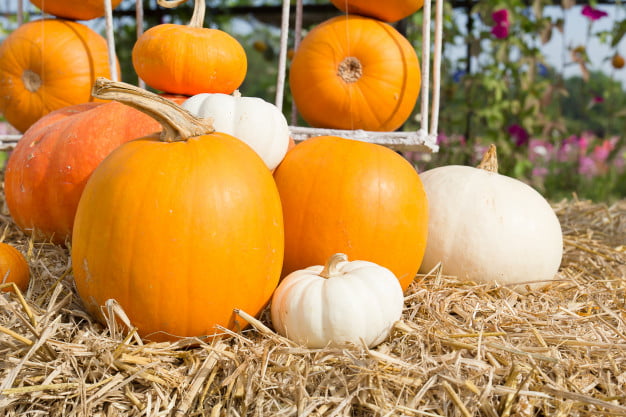 Your pulpy puree isn't just a delicious addition to food, it also makes an amazing smelling facial scrub that is perfect for gifts, favors and  – of course – yourself!
Ingredients:
1/2 cup White Sugar
1/2 cup Brown Sugar
1/4 cup Pulp Puree
1/2 tsp Pumpkin Pie Spice
1/4 tsp Vitamin E Oil
1/2 tbsp  Coconut Oil (omit if you have oily skin)
Mix all ingredients in a large bowl then apply to face. Scrub gently for two minutes to ensure maximum softness!
Ingredients:
1 Medium White Onion (Diced)
3 Stalks of Celery (Diced)
2 Large Carrots (Diced)
3 tbsp Olive Oil
2 Cloves Garlic
4 cups Pulp Puree
1/2 tsp Fresh Thyme
1/4 tsp Nutmeg
1 tsp Fresh Parsley
1/2 Cup Heavy Whipping Cream
6 cups Chicken Stock (or Vegetable Stock)
Salt & Pepper to taste
1). Saute carrots, celery, onion and garlic in olive oil until tender
2). Add stock, spices and pulp puree and allow to simmer for twenty minutes
3). Puree soup with an immersion blender then add heavy cream
4). Simmer for an additional thirty minutes then serve
5). Garnish with fresh parley, Greek yogurt or pumpkin seeds!
The number of recipes you can create are limitless! Feel free to share your own favorite pumpkin recipes in the comments section on our Facebook page!