Springtime is finally here and that means it's time for a home décor refresh. As the weather gets nicer and everything feels a little brighter, people tend to want to have their home décor reflect those feelings. So how do you bring those elements of the spring season into your home? Here some of our favorite home décor ideas for the spring season.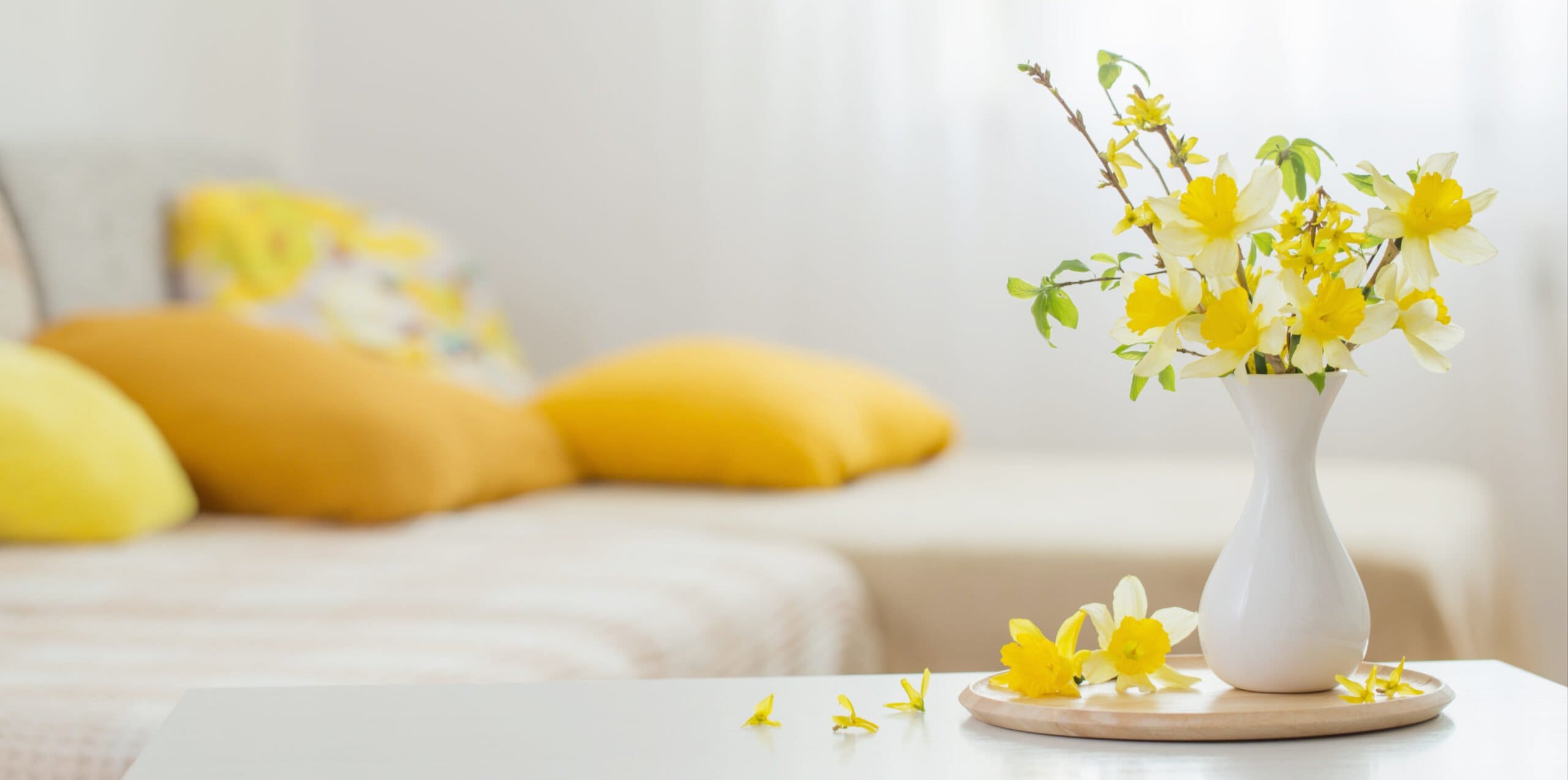 Time to Declutter
The first step in getting your home ready for spring, is to declutter! Getting rid of unnecessary items can help make your rooms seem much larger and cleaner. Grab a trash bag and a box for any items you decide to donate along the way and get to organizing! 
Add A Fresh Coat of Paint
As time goes by, the color of the walls in your home can become faded, dull, or dirty. Whether it's from stale air, dirty fingerprints, or just old age freshening up your walls can be a huge transformation. Adding a fresh coat can make the room seem brighter, cleaner, and bigger.  
Toss in Throw Pillows or Rugs
Bring spring elements into your home by dressing up the rooms with a few throw pillows or an area rug. Pick designs with brighter colors and floral patterns to stick with the spring vibe.  
Go Green
Adding plants to your home can bring outdoor elements to the inside. Plants can add to your aesthetic while also having health benefits. Plants can maximize air quality and flow throughout your home as well as reduce stress levels and increase productivity. If you're not interested in having to maintain the indoor plants, you can always go faux with realistic looking fake plants used specifically for décor. 
Add Pops of Color to Your Home Décor
The spring season is a great time to experiment with bold and bright colors in your décor. Bright colors can help spruce up a room and boost your mood. If you are not ready to plunge into the world of rainbows just yet, start small with bright colored accent items like furniture, rugs, pillows, blankets, or statement pieces. 
Spruce Up Your Entrance
Entrance areas and doorways to your home are huge statement areas and should reflect that in your décor. Dressing up your doors with a seasonal spring wreath or unique doormat can be extremely welcoming to your guests. Add a plant, fresh flowers, or a throw rug into your entrance way to grab attention of your guests and start the spring vibe from the second they walk in the door. 
Bedding
One of the easiest ways to implement a fresh spring aesthetic into your home is to switch out your bedroom bedding. Change to a lighter material for the nicer weather and change up the colors to be brighter and reflect the season. You can always change throw pillows and other blankets used in the room as well. 
Bring in the Sun
Sunlight can make a huge difference in freshening up your home. Putting up curtains made of lighter colors or lighter materials will allow more sunlight to shine in from windows. In areas where you can get away with no curtains, leave the windows uncovered to let in the maximum amount of light. 
Freshen Up the Patio
When decorating your home for spring, don't forget about the outdoors! The weather is getting nice to spend time outdoors, so make sure to consider sprucing up your outside spaces like patios and decks. The possibilities for outdoor décor are endless with throw rugs, patio umbrellas, plants, tiki torches, and more!