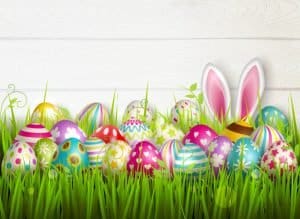 As I walked down the stairs this morning to make my coffee as is my usual routine, I noticed my son at the kitchen table coloring what appeared to be an Easter card. When I asked who he was making it for, he told me it was for the Easter Bunny. He then continued to explain that since it's dangerous for people to be near one another and everything is closing down, the Easter Bunny probably wouldn't be visiting him and his brothers this year, but he still wanted Mr. Easter Bunny to know someone was thinking about him.
While his intentions were kind, the thought of missing out on the few precious moments of innocence left with my boys made me realize how important it is to continue a sense of normalcy in the face of this worldwide crisis. I assured him that the Easter Bunny absolutely WOULD be coming to town this year, and I urge all of you to prepare early alongside me.
In the past week alone our community has watched bars, food establishment and entertainment locations being asked to shut their doors early. Days later major retail store announced worldwide closures, followed by the closure of all indoor malls. Add to that the fact that Amazon will only be shipping whatever is currently stocked in their warehouse and our options become more and more limited.
So here's what we are all going to do in regards to whatever holiday you celebrate in April: we're going to get it all together right now before we don't have the opportunity to do so. Gather your plastic eggs, your baskets, your candy, your matzo, gefilte fish and whatever else you need. It doesn't have to be extravagant this year, it simply needs to happen.
1). Gather Supplies Now
There's no telling when or if larger retailers like Walmart, Target and Dollar General will be closing their doors for a while, so it's a good idea to head there while we can. However please keep in mind that due to the closings of so many other stores supplies will be limited. Purchase only what you need in order to be courteous to the rest of our community.
2). Simplify the Menu
Between food shortages and the suggestion to avoid gathering in groups larger than ten, it's a good year to opt for a smaller dinner. Whether you serve lamb with all the fancy side dishes or Easter pie with a side salad, your family will still end the day with a full belly.
3). Make an Activity Plan
Family was always the main activity at any of my holiday gatherings. Conversations and sharing drinks with cousins, aunts, uncles and close friends was the way in which the hours flew by. With the recommendation to stay in smaller groups this year it's a wonderful opportunity to engage in other activities!
In my family our personal favorites are puzzles, board games, charades, multiplayer video games and going through old family videos and pictures!
4). Grab an Extra Bottle of Wine
Just kidding…(maybe…)
Growing up in an Italian family, holidays were always extravagant affairs filled with far too much food and a house stuffed with (very loud) family members. This year it won't be the same. Best case scenario my children will be able to include their grandparents, worst case it's simply the four of us. We're going to have to compromise a bit this year, and that's OK.